How NOT to clean your chain
10-12-2012, 07:49 PM
(This post was last modified: 10-12-2012 07:55 PM by EtchaSketch.)
EtchaSketch
Novice



Posts: 219

Joined: Jul 2012

I Ride: Daytona 675
How NOT to clean your chain
I saw this on another forum.... If anyone needs any help maintaining or repairing your bike please ask some for the "proper" way of doing something so you don't end up like this poor guy.
If you read the posts in the forum (link at the bottom) the guy seems like a cool dude that made a simple mistake that he has to live with for the rest of his life.
"*****LEAVE NOW IF YOU WILL BE OFFENDED BY GRAPHIC PICS*****
I will start off by saying that I am a worthless squid rookie and I suck at everything in life.
I was about to go for a ride today and my chain was pretty nasty, so I put it up on the stands and got out the wd-40 and a rag. I started the bike, put it in gear and let it idle. I sprayed the chain down really well and I put the rag up to it and it got caught and took my hand with it through the rear sprocket. I had to have everything above my last joint amputated on my index, pointer and my ring finger on my right hand. Thankfully I am left handed. It was a stupid mistake on my part and now I will forever pay the price for it. Say what you will, flame away, I don't care. I have accepted it and I take full responsibility. I made a choice (not knowing any better) and I will live with the consequences for the rest of my life. I thought I would post this so that 1.) no one else ever makes this mistake and 2.) To show that you don't have to be riding for a bike to get you hurt.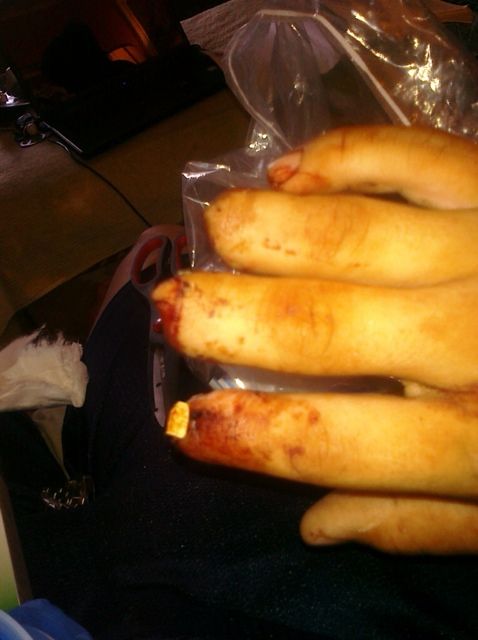 "
Original forum:
http://www.gixxer.com/forums/showthread.php?t=242261
10-12-2012, 07:55 PM
RE: How NOT to clean your chain
Dude that is FUCKED UP!!!!
10-12-2012, 08:01 PM
the falcon
SCS Treasurer



Posts: 1,168

Joined: Jul 2012

I Ride:
RE: How NOT to clean your chain
Damn I thought I was pretty dumb when I sliced my thumb.
---
28 YEAR AMA CHARTER LIFE MEMBER! I ride the BUSA and THE GOLDWING 1800. Sold the Gsxr1000 for the 2002 KLR650
10-12-2012, 09:01 PM
Pcone16
Where's the throttle?



Posts: 607

Joined: Jul 2012

I Ride: Ducati 1199 Panigale S
RE: How NOT to clean your chain
That shit will buff out !!! That sucks,
---
WERA # 215
CVMA #215
SCS Facebook
10-22-2012, 11:42 AM
SPOOBY



Posts: 4

Joined: Aug 2012

I Ride:
RE: How NOT to clean your chain
Put some Vapor rub on it. You're good!
05-07-2013, 12:54 AM
RE: How NOT to clean your chain
poor dude, that sucks BIG TIME!......

User(s) browsing this thread: 1 Guest(s)